Want a vibrant and energetic body in 15 days?
Feeling sluggish, toxic, or overweight?
Wanting to release old habits, emotions + behaviors?
Mood swings + cravings overwhelming you?
Want to balance weight + reset your body to crave naturally healthy foods?
Putting stuff into your body that makes you feel gross?
Concerned about constant environmental toxins?
Wishing to do all of this naturally and gently, without extreme fasting or discomfort?
Changed your diet because you can't digest certain foods well, such as dairy or gluten?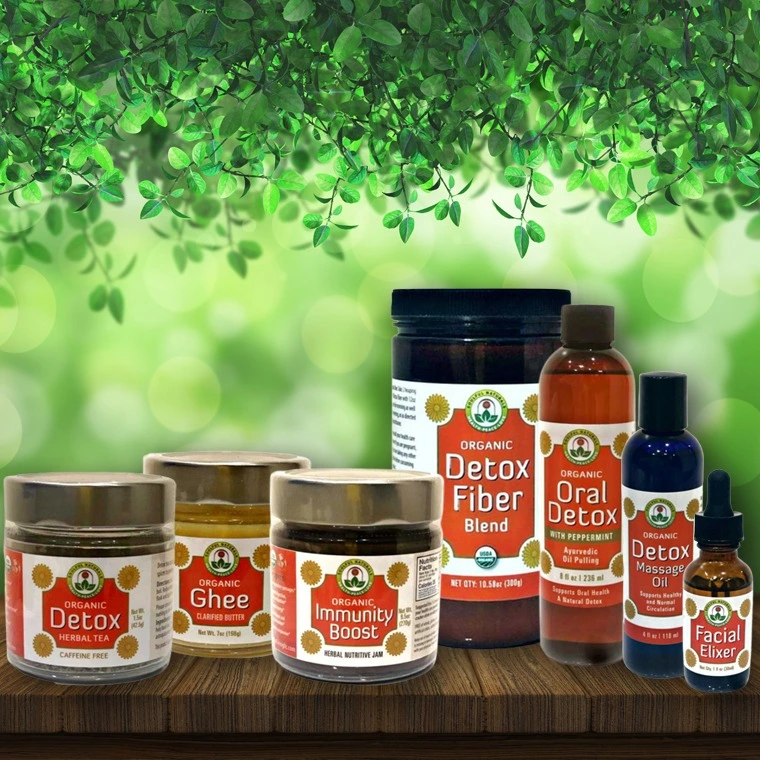 What does this 15 Days Ayurvedic Detox Kit accomplish?
The 15 Days Ayurvedic Detox Kit is a two-week, at-home, Ayurvedic digestive detox and lymph cleanse program rooted in medical science and the ancient cleansing wisdom of Ayurveda.
Most of the cleanse emphasize extreme fasting and dangerously unbalanced dieting, our 15 Days Ayurvedic Detox Kit relies on a gentle, simple diet that allows the body to burn fat without hunger pangs.
The 15 Days Ayurvedic Detox Kit is unique because it works in a three-step process-
Step-1: Four Days
To prep your body to flush toxins, we make sure your detox channels are functional by following an allergen-free, whole-food diet, and taking herbal formulas. This phase focuses on:
Balancing blood sugar + restoring intestinal mucosal barrier.
Designating lymphatic system.
Decongesting liver, thinning bile + preparing to detox.
Step-2: Seven Days
You will eat a simplified diet of the non-fat rainbow diet —a nourishing rice and bean dish to help reboot digestion. There are three meal options to choose from. You'll be drinking ghee each morning, performing the ancient Ayurvedic process of oleation. Self-inquiry exercises bring to the surface and release old emotions, patterns, and behaviors that store in fat cells. Phase 2 closes with a gentle laxative. This phase focuses on:
Resetting fat metabolism.
Flushing liver + detoxing fat-soluble toxins.
Releasing destructive emotions, patterns + behaviors.
Step-3: Four Days
Return to Phase 1 diet with a protocol to boost digestive fire.
Reset upper digestive strength, the most common cause of digestive issues.
Traditionally Ghee, which is also know as 'clarified butter' is made from organic butter that is churned from the cultured milk produced by grass-fed and pastured cows. The ancient natural healing system of India regards 'Ghee' as vital for health and beauty. Used as one of the key ingredients to detox during 'Khichadi Cleanse'.
'Organic Cultured Ghee' provides a nutritive fat in your diet. It is easily digestible and is used for internal oleation that helps extract and remove toxins. It can also be used in place of butter.
Our 'Organic Cultured Ghee' is preservative free, casein free, lactose free, salt free and has no trans-fat, no colors or dyes, or flavor enhancers.
Ingredients- Organic Butter (Milk)
-Ghee Facilitates the Body's Use of Fat as Fuel
– Ghee Aids in the Removal of Pesticides and Preservatives from the Body's Deep Tissues
– Ghee Fosters a Healthful Microbiome
– Ghee Promotes Gut Immunity
– Intestinal Health is Supported by Ghee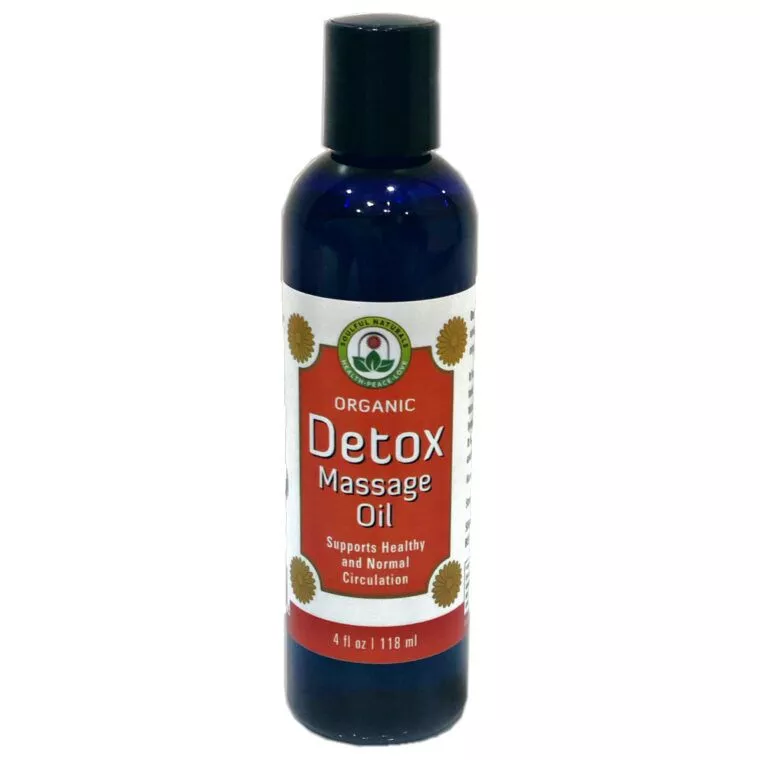 Detox Massage Oil is a unique blend of organic essential oils and organic sesame oil. It can be used as a daily massage oil to keep the skin hydrated and nourished. The aroma of the oil is pleasing, energizing, and revitalizing to the senses with a light hint of cinnamon and lavender.
About this item
Helps maintain healthy, nourished skin*
Support the lymphatic system*
Supports healthy and normal circulation.*
Suggested Use: Gently massage a small amount of Detox Massage Oil on your body before or after taking a warm shower or bath. (For external use only.)
**Always test products like this on small areas first before applying to larger areas to confirm skin has a safe reaction to herbal oils.**
Ingredients: Sesame oil*, Lavender oil*, Cinnamon oil*, Bergamot oil* and Lemon oil* (*Certified Organic)
Made in a facility that handles dairy, sesame, and tree nuts.
Ayurvedic oil massage is called abhyanga. Warm oil massage has been shown to be effective at calming sensory nerve receptors, which is a benefit of this ancient Ayurvedic ritual and traditional Indian practise that has been used for thousands of years to regulate vata, or the nervous system.
Detox Massage Oil is used to soften, heal, and detoxify the body during abhyanga, a type of sneha, or oleation. Sanskrit also has a word for maternal love and affection called sneha.
This implies that abhyanga should be practised with love, intention, and affection. This results in the body's lovable, giving, bonding, and longevity hormone oxytocin being released, whether you are self-massaging or giving a massage.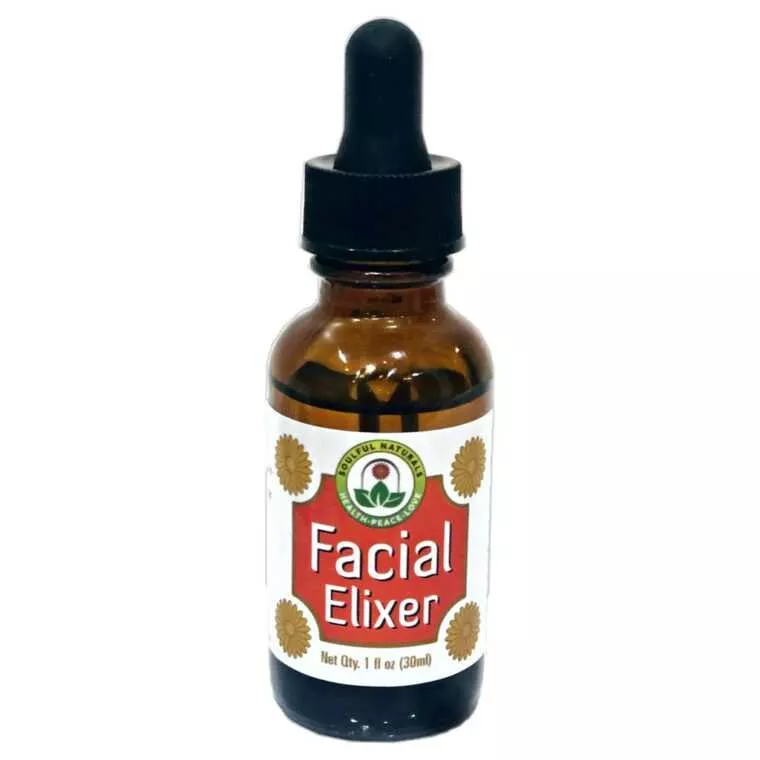 For All Body Types
Naturally scented with jasmine, sandalwood, and rose—as subtle and luxurious as nature itself, Sparkling Beauty face oil is vehemently used to reduce the appearance of fine lines and wrinkles. A potent blend of vitamins, minerals, and antioxidants, this oil increases hydration levels, improve elasticity, boost collagen production, and helps diminish age spots and discoloration.
Unique Selling Propositions (USPs)
Organic
eco-friendly
Nourishing
Product Ingredients/Materials
Sesame Seed Oil*, Apricot Kernel Oil*, Walnut Oil*, Castor Bean Oil*, Sandalwood Oil, Jasmine Officinale (Jasmine) Oil, Rosa damascene (Rose) Flower Oil., Tocopherol (non-GMO, Vitamin 'E'), Rosmarinus offcinalis leaf extract* *Certified Organic.
Works awesome for all skin types, for men and women. 
Organic • Cruelty-Free • Vegan • Toxin-Free • All Natural • GMO-Free • Made in the USA
– Enhance the natural radiance on your face by repairing it and skin-improving qualities of the priciest spice in the world!
– Enhance your appearance with a blend of herbs and exotic flowers
– Results are substantially different from those of a face crème with just three drops every day.
– Make your facial massage even more enjoyable by
either with the help of our Facial Elixir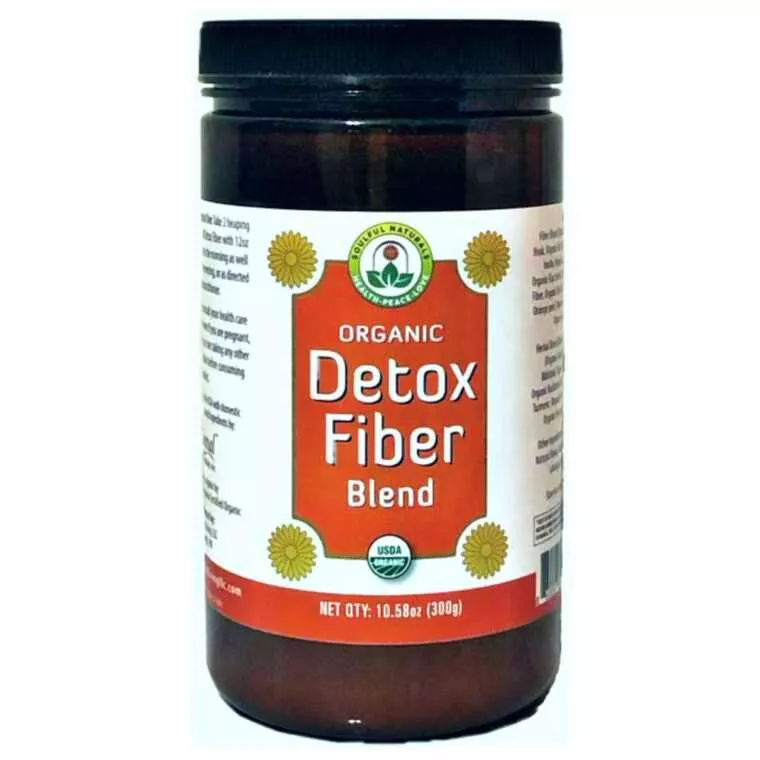 ORGANIC Detox Fiber Blend



For All Body Types
• ALL NATURAL & NON-STIMULATING: Gluten-free herb and fiber blend with psyllium husk, and turmeric gently encourage healthy elimination without weakening the muscles of GI tract
• HERBAL DETOX FORMULA: Premium herbs like triphala, fennel and turmeric help cleanse the gut and the liver to flush out harmful substances that can compromise your health and helps better nutrient absorption.
• SUPPORTS DIGESTIVE HEALTH: Soluble and Insoluble fiber from Oat bran, and dates fiber supports a healthy gut environment and helps boost digestion for a more efficient metabolism, and increased regularity.
• CLEANSING SUPPORT: Along with a healthy gentle diet and exercise routine, a regular colon cleanses program can support weight management by optimizing digestion and metabolism.
Ingredients: Psyllium Husk*, Oat Fiber*, Dates Fiber*, Triphala (Amalaki, Haritaki, Bibhitaki)*, Buckthorn*, Turmeric*, Fennel seed*, Himalayan Salt, Lo Han Guo, Guar Gum*, Acacia gum*; *Certified Organic.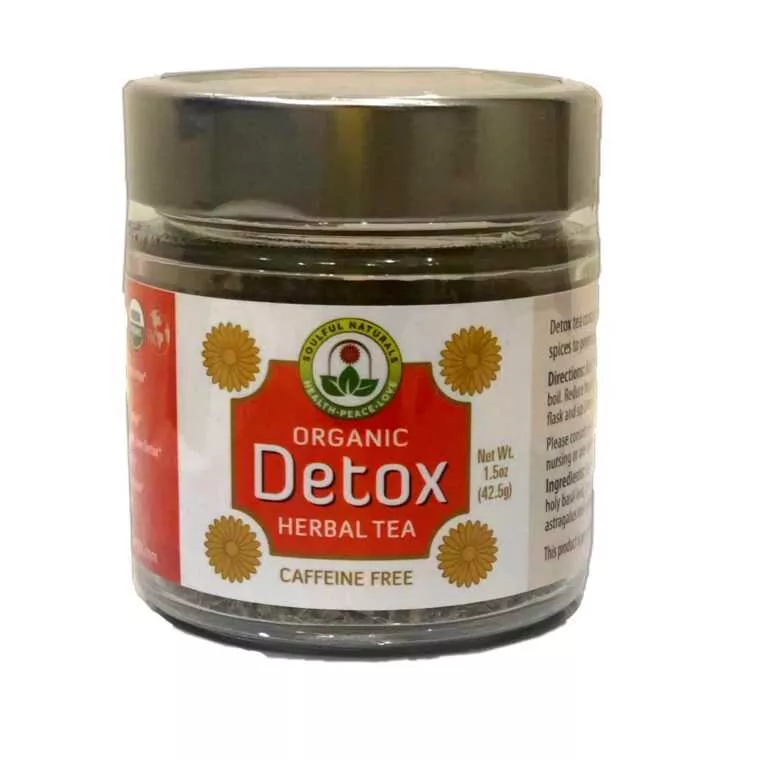 Weight Loss tea contains a unique blend of Ayurvedic herbs and spices to help support healthy weight loss. It has blend of Ayurvedic herbs and spices which are warming to reduce Kapha dosha. It's a naturally caffeine-free, herbal tea made with 100% Organic certified ingredients.
About this item:
Supports healthy metabolism*
Supports healthy digestion*
Promotes healthy appetite*
Supports optimal weight*
Promotes energy and vitality*
Ingredients
Organic cumin seeds, Organic coriander seeds, Organic holy basil leaf, Organic fennel seeds, Organic peppermint leaves, Organic ajwain seeds (carom seeds), Organic ginger root, and Organic black pepper.
Made in a facility that handles dairy, sesame, and tree nuts.
Manufactured in the USA from foreign and domestic ingredients.
Directions
Add 1 Tablespoon of tea in 4 cups of water and bring it to a boil. Reduce heat and let it simmer for 5-10 minutes. Strain the tea into a flask and sip through out the day. Finish the tea by 4:00 pm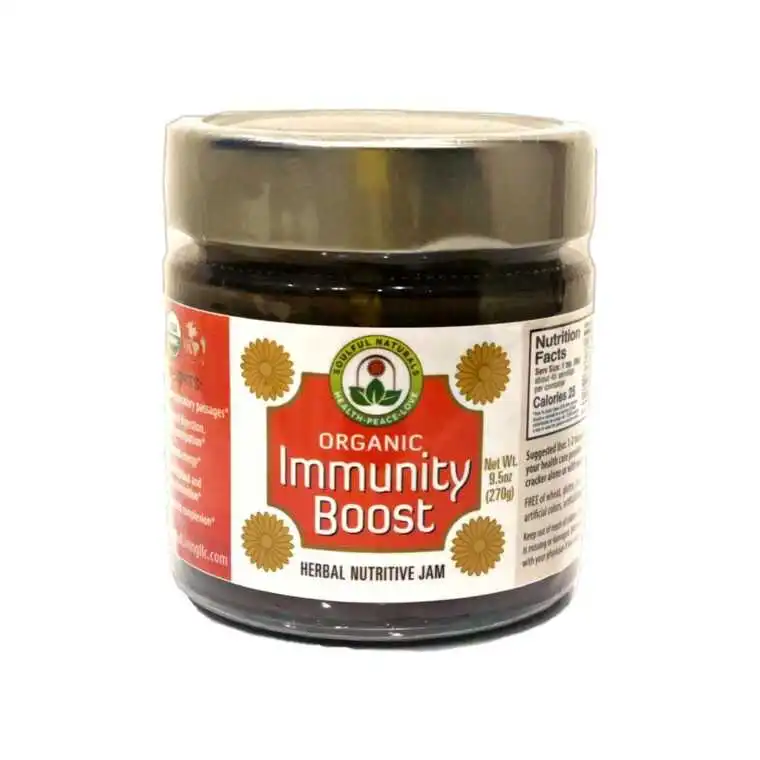 It is the new name for ageless wonder in Ayurveda called Chyawanprash. It is a profound herbal jam that has been used for centuries to help people of all ages stay healthy year around.
ORGANIC Immunity Boost (Chyawanprash) contains over 28 Organic herbs in a base of 'Amalaki'. Also known as Amla berry or Indian gooseberry, Amalaki, a super fruit from the Himalayas, is revered in Ayurveda for its strong antioxidant, anti-aging characteristics with its potent free-radical scavenging properties.
ORGANIC Immunity Boost is made in the USA in small batches, with a synergistic all-natural multi-nutrient blend of Organic whole herbs.
ORGANIC Immunity Boost is an elixir for both, young and old as it helps
Stimulate metabolism*
Strengthen the immune system*
Enhance digestion and absorption *
Improve concentration and memory*
Promote detoxification*
Balance stress levels*
Support healthy lungs and respiration*
Promote cellular rejuvenation and increases vitality*
Ingredients
Cane Sugar*, Amalaki*, Ghee* (Clarified Butter), Honey*, Dashmool *[Ringani/Bruhati (Solanum indicum)*, Agnimantha (Premna integrifolia)*, Shalparni (Desmodium gangeticum)*, Shyonaka (Oroxylum indicum)*, Prishniparni (Uraria picta)*, Padal/ Patala (Stereospermum, chelenoides/suaveolens)*, Bael/ Bilva (Aegle marmelos)*, Gokshur (Tribulus terrestris)*, Gambhari (Gmelina arborea)*, Kantakari (Solanum xanthocarpum)*], Green Cardamom (Elettaria cardamomum)*, Ashwagandha (Withania somnifera)*, Shatavari (Asparagus racemosus)*, Vidarikand (Ipomoea digitata)*, Cinnamon (Cinnamomum verum)*, Anantmool (Hemidesmus indicus)*, Bhumiamla (Phyllanthus urinaria)*, Black Cardamom (Amomum subulatum)*, Gokshur (Tribulus terrestris)*, Punarnava (Boerhavia diffusa)*, Raisins (Vitis vinifera)*, Ginger (Zingiber officinale)*, Vasaka (Adhatoda vasica)*, Licorice (Glycyrrhiza glabra)*, Brahmi (Bacopa monnieri)*, Indian Bay leaf (Cinnamomum tamala)*, Nagkesar (Mesua ferrea)*, Pipali (Piper longum)*, *Certified Organic.
FREE of wheat, gluten, corn, soy, lactose, egg, tree nuts, peanuts, shell fish, artificial colors, artificial sweeteners and artificial preservatives.
Made in a facility that handles dairy, sesame and tree nuts. Contains Dairy.
Manufactured in the USA from foreign and domestic ingredients.
Suggested Usage
For a traditional preparation, take 1 teaspoon of ORGANIC Immunity Boost's / Chyawanprash 1-2 times a day in a cup of warm milk or hot water. For a delicious treat spread on toast or crackers like a jam alone or with your favorite nut butter to boost immunity.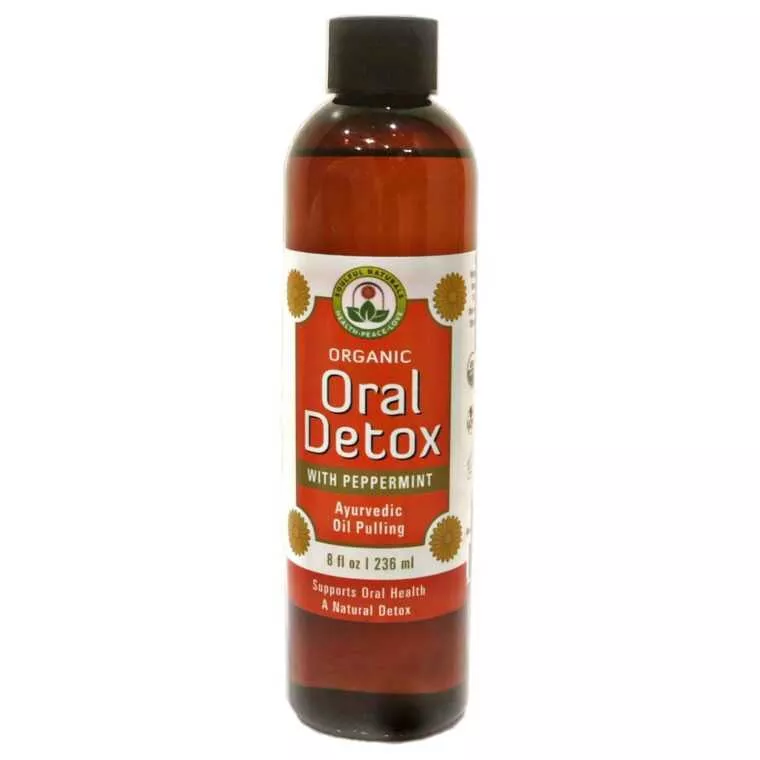 Oil pulling or oil swishing is a simple, cost-effective, natural remedy that involves pulling or swishing oil in the mouth for 10 to 20 minutes. In Ayurveda, it is believed to "pull" all types of toxins out of the body and into the oil in the mouth, allowing you to spit out those toxins for oral and systemic health benefits.
Ayurvedic oil pulling is a unique daily practice for oral care. It is a safe, simple and natural formula to support a healthy mouth and fresh breath.*
100% Plant-Based, Cruelty-Free, Chemical Free
About this item
• Support healthy teeth, gums and jaws*
• Supports oral health and hygiene*
• Freshens the breath*
• Helps reduce the buildup of ama or oral plaque in the mouth*
Ingredients
Organic Sesame Oil, Organic Coconut Oil, Organic Turmeric, Organic Peppermint
Suggested Use
Take 1 to 2 teaspoons of Oral Detox in your mouth and swish it around for 10 –20 minutes- ideally first thing in the morning. It can be done even while taking a shower or working around the house. Spit out and rinse your mouth with warm water. You can do this before or after brushing your teeth with AyurBest OralTone Tooth Powder or with a toothpaste of your choice. Do not swallow it.
Certified Organic, Vegan, Gluten Free, Paleo, Non-GMO
Made in a facility that handles dairy, sesame, and tree nuts.
Allergen information: Contains sesame oil